CLICK HERE to learn more about our Enhanced Cleaning and Disinfecting Services.
Important Applicant Information:
Welcome to Advanced Maintenance Solutions, LLC

®

!
Advanced Maintenance Solutions, LLC® has been recognized as a respected leader in the janitorial industry since 1992 throughout Northeast and Central Wisconsin. We service our customers with both our own internal employees, but our dedication to finding the best cleaners in East Central Wisconsin means that we also recruit independent contractors to partner with our team, too.
We are always open to hire awesome new team members or consider expanding our contractor base with qualified contractors that uphold only the highest standards of quality, ethics, and customer satisfaction.
If you are interested in applying to be an employee for us, please read the information below and then complete the Employment Application in the link to the right.

If you are an existing Building Service Contractor interested in applying to become a potential subcontractor for AMS, please click the Contact Us link and we'll send you a Contractor Pre-qualification Packet.
Before you complete this application, we would like you to know a little bit about working here:
As an employee at AMS, you will become part of an elite team that has been delivering top results for our customers through our "Excellence in Service" attitude for more than 25 years. We commit to providing you with training, competitive wages that are above the industry averages for our market, advancement opportunities, and—after you've been with us for a while—benefits, such as: health insurance, life, short and long-term disability benefits, paid vacations and paid time off. In exchange, we need and expect your commitment.
Part of that commitment is bringing a positive attitude, a willingness to learn, and a good work ethic with you when you walk in the door. Candidates who can "live and breathe" these top five traits become our most successful employees.
1. Show up and be on time, EVERY TIME. Our customers rely on us to consistently get the job done. Your teammates rely on YOU to do your part. Showing up prepared is half the battle.
2. Work hard AND smart. Make no mistake, this is a hard job. It is not glamorous work and requires you to work both efficiently and effectively. A little "elbow grease" goes a long way in this industry. You must be willing to learn and apply our professional methods and practices. We have been doing this a long time and have developed some tried-and-true ways of doing things. Our supervisors and field trainers are experts and will help you get started on the right foot. Following their instructions now will help you build a solid foundation of knowledge and expertise for the future.
3. Safe is more than just another four-letter word. You will be doing a lot of physical work in a variety of environments. You must ALWAYS think safety first.
4. A little maturity goes a long way. While work should be fun, you should always remember that this is a job, and you are a professional. Get along with your co-workers, treat your supervisors with respect, talk to customers as the professional they (and you) are.
5. Theft, horseplay, insubordination, harassment, and unprofessionalism are things we simply do not permit or tolerate. Be accountable for yourself, your behavior, your actions, and ultimately your work results.
THANK YOU again for your interest in joining the team at AMS. We always appreciate the interest of qualified, hard-working people and look forward to reviewing your application.
A few instructions before you apply:
Online applications are preferred for easy processing. You may also print a copy of the application and fill in using blue or black ink.

Answer all questions completely.

Carefully read the information on the application. Once you have read and completed all information, check the "yes" box to acknowledge the Applicant's Statement and submit.

If not completing online, return the completed application to Human Resources at our main office or via email. (Provided in right column)
General Job Descriptions:
These examples are representative of the type of duties involved in these positions. They are not all-inclusive.
Custodial Positions: Under general supervision, perform a wide variety of custodial and maintenance duties including but not limited to high/low dusting, vacuuming, restroom cleaning, garbage removal, sweeping, mopping and other duties as required or assigned. Ability to stand/walk for majority of shift, ability to bend, stoop, push/pull and lift/carry up to 75 pounds.
Specialty/Projects Positions: Under general supervision, provide building maintenance services including but not limited to floor care, window cleaning, construction cleaning, carpet and furniture cleaning, commercial kitchen cleaning and other duties as required or assigned. Ability to stand/walk for majority of shift, ability to bend, stoop, push/pull and lift/carry up to 75 pounds. Knowledge of cleaning equipment (vacuum, buffer, carpet extractor) is required along with experience using same. A valid driver's license is preferred for these positions.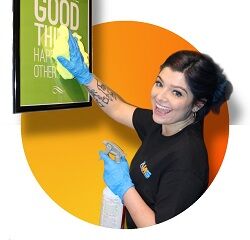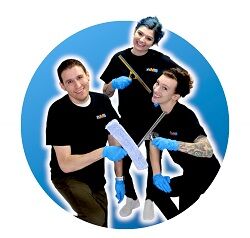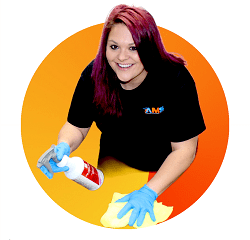 CLICK HERE to learn more about our Enhanced Cleaning and Disinfecting Services.

Advanced Maintenance Solutions, LLC
1555 S. Commercial Drive
Neenah
,
WI
54956
Office: (920) 886-2222
Email us! info@wisconsinjanitors.com