CLICK HERE to learn more about our Enhanced Cleaning and Disinfecting Services.

Since 1992, Advanced Maintenance Solutions (AMS) has been the clear choice for premium managed janitorial services to a wide variety of industries throughout Northeast Wisconsin. AMS is a Wisconsin Woman Owned Business Enterprise, Minority Business Enterprise, an IICRC Certified firm, and has long been recognized for industry professionalism and commitment to service excellence. In 2021, AMS was once again re-certified with our industry's highest recognitions, the ISSA CIMS Cleaning Industry Management Standard and the CIMS Green Building, both WITH HONORS. AMS services a diverse portfolio of clients, including some of the largest and most recognizable names in our state – Class A office buildings, manufacturing, food production, medical, transportation, banking and yes, even our favorite Green Bay's NFL Hometown Heroes count on us to keep their operations immaculate!
Most of our customers have been with us 10-15 years or longer and AMS is here to stay. Our services have stood the test of time, and our goal is to continue providing clean and healthy environments without cutting corner or over-hyping our services. Our job is to make yours easier. If you are looking for the best partner for your organization's cleaning and sanitation needs, you have come to the right place.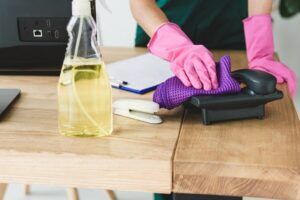 Customized Cleaning
We customize our solutions to your needs, starting with a free consultation.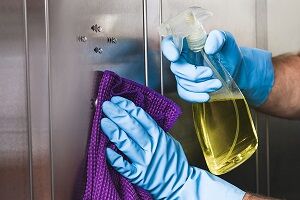 Cleaning During Covid-19
Know the difference between cleaning, sanitizing, and disinfection to help keep your facility healthy.
Maintenance Made Easy
Why spend your time managing multiple vendors? We can provide all of your maintenance needs.
In terms of CIMS and given that they without exception scored 100% in all categories and given that interviews were conducted at all 16 locations with those charged with overseeing the contracts with No negatives of note, it is indeed my honor and privilege to recommend Advanced Maintenance Solutions for ISSA's CIMS certification and GB certification with Honors.
Caroline is very happy with the service her facility is receiving. She says they are prompt at responding to any requests she might have, and that Amanda is also very responsive to the customer. I asked if there was anything she would seek to change or improve, and she couldn't think of anything.
Work With AMS
Advanced Maintenance Solutions, LLC® has been recognized as a respected leader in the janitorial industry since 1992 throughout Northeast and Central Wisconsin. We service our customers with both our own internal employees, but our dedication to finding the best cleaners in East Central Wisconsin means that we also recruit independent contractors to partner with our team, too.
Awards & Certifications
Our AHE CHEST and CHESP certifications signify that we are certified as healthcare environmental professionals and technicians. The CIMS-GB Certification, with Honors, demonstrates our capability to assist you in achieving LEED-EBOM points, and offers assurance that we are prepared to be a knowledgeable partner in the LEED process. When you see a IICRC logo, you can be confident that an IICRC-certified experienced, qualified professional is caring for your valuable property. Learn More >


We service many different industries, both large and small, including:
Office buildings
Auto Dealerships
New Construction Sites
Government Contracts
Airports
Warehouses
Medical Facilities
Manufacturing Plants / Facilities
Banks and Credit Unions
Churches
Schools and Education Facilities
Athletic Facilities & Professional Sports Facilities
CLICK HERE to learn more about our Enhanced Cleaning and Disinfecting Services.

Advanced Maintenance Solutions, LLC
1555 S. Commercial Drive
Neenah
,
WI
54956
Office: (920) 886-2222
Email us! info@wisconsinjanitors.com